Eco-friendly wall wraps designed to attract attention
Wall wraps are an environmentally-friendly, versatile and cost-effective marketing tool that will get your message to the masses, and with maximum impact.
A wall wrap can be used for various purposes, such as advertising, branding, decoration or architectural enhancement. They can be printed with custom designs, photographs, graphics, or branding elements and can be made to fit any wall size or shape.
Wall wraps make a big visual impact, especially in high-traffic areas where they can be seen by a large number of people. They can be used to create a striking first impression, draw attention to your business, or add a touch of style to any interior or exterior space.
Creating a more sustainable future
Whilst wall wraps have been around for a long time, we are now able to supply eco-friendly wall wraps, helping businesses to support sustainable practices and help to create a more sustainable future.
The eco-friendly wall wraps will not only help reduce your company's environmental footprint, but as they are made of such high quality materials that are resistant to fading, tearing and weathering, so you can be reassured that your design will look great for years to come.
One of the great benefits of investing in a wall wrap is that it is easy to install and remove, making it a convenient solution for a temporary or seasonal display. They can also be easily replaced if you want to change the design or update your branding.
Because the wall wraps environmentally friendly, they can be recycled or disposed of in an environmentally responsible manner.
Wall wrap Installation at Reading University
At Impression Graphics, we work with a number of educational establishments, designing, installing and removing interior graphics and wall wraps.
This recent project took us to Reading University where after the initial survey, we were involved in the concept and artwork creation before installing these impactful, thought-provoking graphics into various locations around the University.
We installed a large number of full digitally printed and laminated wall wraps using an eco-friendly material. The largest graphic spanning 8mts x 3mts approx.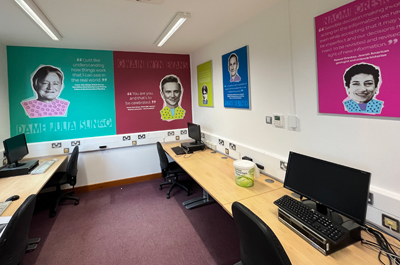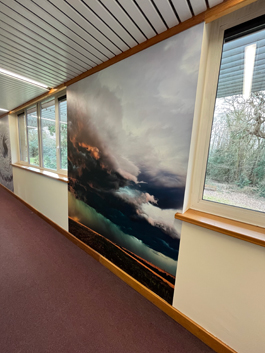 View other interior graphic installations at https://www.impressiongraphics.co.uk/portfolio/
Get a quote on your customised wall wrap today!
We offer in-house design for wall wraps, or we are happy with work directly with designers and design agencies to support the creative process and advise how different materials can be used to bring your creations to life.
Alternatively, we can offer the complete solution; end-to-end project management from initial concept to design, print and install.
Impression Graphics & Installations have a team of skilled engineers who will install your wall wrap on a date and time to suit. We include a Risk and Method Statement for all wall wrap installs.
You can feel assured that we will work tirelessly to achieve deadlines and our installation team will be available to install your graphics on the date agreed. Please call us on 01252 364374 to discuss your requirement or get in touch via the contact form